All You Have Taught Me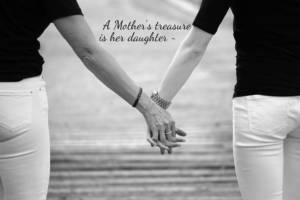 Mothers are celebrated today and everyday. There is nothing like a Mother's love. Thank you to all Mothers and Grandmothers for all that you do.
I am blessed to have a Mother who is my teacher, best friend, mentor and angel. This poem is for you.
Since you first looked into my eyes
You promised to be there
Through the worries and cries
You've taught me all about pride
To stand proud and be tall
And all the while, to smile wide
You have taught me all about passion
To never set limits
For all action-no need for a ration
You have taught me about being willing to lead
To listen and learn
At every turn try to do a good deed
You have taught me all about giving back
To always spread brightness
And to never, ever let the World go black
You touch all those around you
Easily making us smile
Time and again, it's just what you do
You have taught me all about being a Mom
Like instilling great values
"Show gratitude for where you came from"
You have taught me all about being a wife
To love without limits
And live a happy life
You have taught me all about being a friend
The importance of being there
Not just now, but until the very end
I love you more than I can say
You are my inspiration
In every single way
Heaven sent an angel down from above
To give me a Mother
That I adore and love
Madison 
HCM LIFESTYLE CELEBRATES ANGELS ON EARTH
Everyday we have people in our lives who make life that much brighter. Mothers, fathers, siblings, friends, teachers, neighbours and more. Share your story of someone who makes your life brighter. Email hcmlifestyle@gmail.com. Our Angels inspire us everyday to become the best version of ourselves.

HCM LIFESTYLE SOCIAL CONNECTION
We are also sharing inspiring moments through Instagram, Twitter and Facebook. Please connect with us to be part of the inspirational HCM Lifestyle journey. You can also connect through our bi-monthly newsletters.
Thank you to all Mom's and Grandma's on Mother's Day and Everyday!
HCM Lifestyle