My Week In An Enchanted Greek Island Villa
The Road to Rhodes Awaits….
From the moment we arrived in Rhodes, I knew I was going to love it. The airport at Kremasti is small, easy to get around, and the car rental agency was right there. The young fellows that took care of our rental were knowledgeable, had a great sense of humour and were very helpful in directing us to our villa on the east coast of Rhodes, some 40 kms. away. Rhodes is not an overly big island, it's main roads are wide and easily maneuverable, but the same cannot be said for some of the roads in the towns, and around the capitol, Rodos.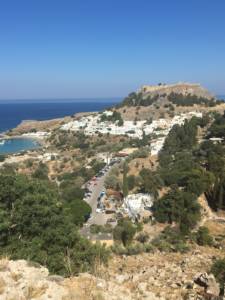 Arrival At Our Enchanted Villa
We arrived at our beautiful villa and were very pleased with what we saw. It had a spacious pool, a medium sized kitchen with a sitting area and a master bedroom on the main floor. There was a full bath and laundry facilities with a great stereo system and luxurious air conditioning which was an absolute must in the 42C heat on the last day of June. The upstairs featured two bedrooms with balconies and another full bathroom.
Canada's 150th Celebration In Greece
Our group of seven settled in nicely and after breakfast we enjoyed the pool area until after lunch, at which point we went to Lindos to celebrate July 1st., Canada's 150th year of Confederation. We garnered a few strange looks, dressed in different combinations of red and white to compliment our flag, but we were always treated kindly and with a real warmth at all the shops and bars  along the way. Business people take exceptional pride in their establishments here, for many have been here for decades, if not longer. Our dinner at Mavpikos was unforgettable. The following day we experienced terrace dining in the shadow of the Lindos Castle, which was spectacular, as well.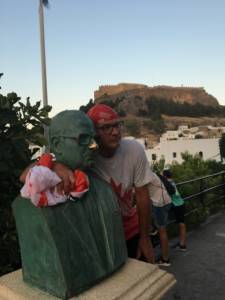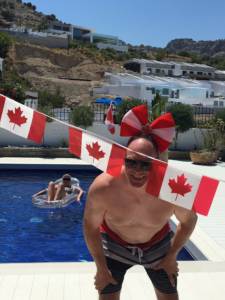 The Old City of Rodos
We decided to venture north, along the east coast the following day, and looked around the town of Archagelos and also toured a lovely traditional ceramic factory. Along the road to the capital of Nisos Rodos we passed no fewer than sixteen beautiful beaches. We found that Rodos has excellent shopping, especially for shoes, and to a lesser extent jewelry. The castle wall that encloses The Old City of Rodos contains a seemingly endless array of shops, souvenir stands, clothing stores, bars, fast food kiosks and restaurants. A very popular beach adorns the northern tip of Rodos (and the island, for that matter). You should plan for a completely full day here if you plan to visit.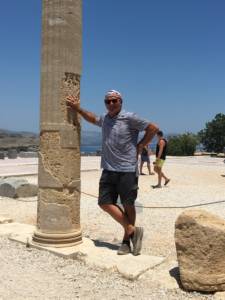 Cold Drinks and Luxurious Shade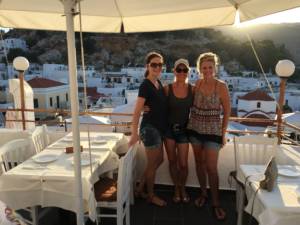 On July 5th we ventured south from our base in Lindos and explored Notia Rodos and Parasonisi.This is where the Aegean and the Mediterranean mingle, and where windsurfers and parasailers delight. Obviously it is quite windy here, but it still has a very nice beach, where you can take a very long stroll. On the way back we stopped at Pifbos village, which was breathtaking and had gorgeous beaches.We spent the last few hours of the afternoon at St. Paul's Bay at the base of the castle. There we enjoyed cold drinks and enjoyed the luxuriant shade provided by the palapas (umbrellas made of straw)in the 40C cloudless sunshine. The water in the bay is as smooth as glass and down the beach from us,  a gorgeous wedding took place in a quaint chapel.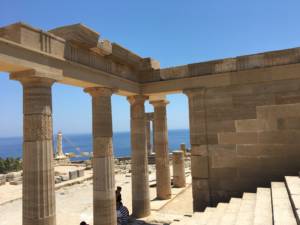 The next day we summoned all of our strength to take the walk up to the castle ruins. It was not too bad at all, despite the heat, and I quite enjoyed chatting with the merchants who were hawking their wares on the way up. We purchased a beautiful tablecloth with matching napkins made of the finest Greek linen. The distinctive Greek symbols that adorn the finery make it an everlasting treasure, that we will forever cherish. The castle itself was such a majestic setting, so high up on the hilltop.There has been a tremendous amount of effort put into its restoration, and the interactive signage makes it a must-see for everyone.
Picturesque Panoramic Views
The panoramic views of Lindos, Saint Paul's Bay and the surrounding countryside are incomparable.One must allow at least half a day for this venture, and the cost of entry is minimal.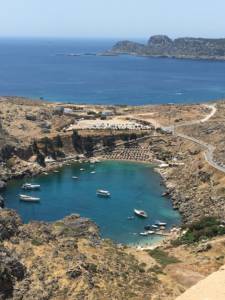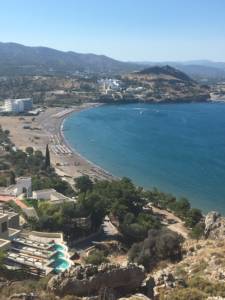 On July 7th, our final day at the villa, I went down to the market and purchased six delicious T-bone steaks, vegetables, canned beans and salad fixings for dinner that night. We then spent most of the day relaxing and enjoying fellowship by the pool and listening to music. Our supper was out of this world. There is nothing quite like a steak barbecued the "old way", over charcoal briquettes. We spent the whole evening sitting around the large dinner table, enjoying desserts and wine and just enjoying each other's company until almost midnight.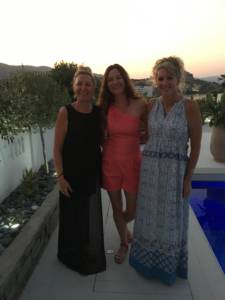 Home
The quick trip to the airport for our early morning flight was uneventful, inasmuch as it was so simple to drop off the rental car, maneuver through the small airport and settle into our trip to Athens, Toronto and then home.
There are very few superlatives that CAN'T be used to describe a trip like this. The island is, in and of itself, magnificent, but it is also so laid-back, easy to navigate and as comfortable as it is beautiful. Thinking of the legions of people that have visited here over the previous two or three thousand years gives you pause….
My advice is to not pause for too long-Rhodes awaits you!
Kelly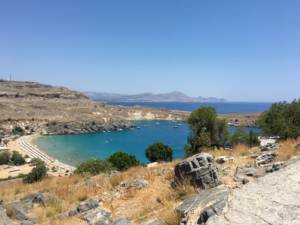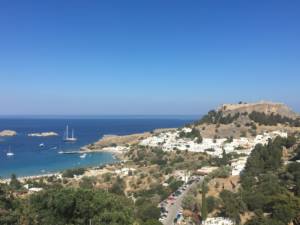 HCM Lifestyle Is International
The HCM Lifestyle family spreads from Malta and the French Polynesia, to Australia and London. With readers and supporters far and wide, we want to hear your story of travels and life to learn from one another.
Please share photos of your travels and we will post them to share with others to inspire other adventurous travellers. You can share online or email hcmlifestyle@gmail.com
Thank you for being part of the HCM Lifestyle journey. So please connect with us on Instagram @hcmlifestyle, Facebook, Twitter and Tumblr and be with us every step of the way. Also sign-up for our bi-monthly newsletter to follow all our travels.
Thank you for sharing Kelly and we are happy you uncovered a beautiful island gem!