Sleeping With Elks In Jasper
As part of my Award Journey with the Duke of Edinburgh, I undertook an interesting journey of discovery in Jasper. In my expedition I learned the importance of the preservation of the natural environment and its inhabitants (including elks).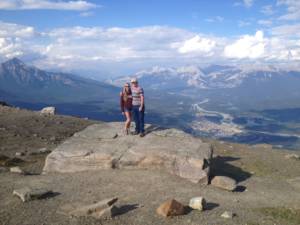 This was part of my three year award journey with the Duke of Edinburgh Award. The  Duke of Edinburgh is an international award program for ages 14-24. The vision of the program is "toinspire and promote lifelong improvement for all young Canadians by encouraging personal development and achievement." I strongly encourage all youth and young adults to become involved. More info can be found here.
An Adventurous Journey
In regards to my Duke of Edinburgh adventure, the planning for my journey started out with who I would go with, how I would get there, where we would stay, what we would eat and the activities that we would take part in on our journey. I went on the expedition with Alex. Alex is an experienced camper and respectful of the environment. We travelled from Drumheller to Jasper in a truck, however once we got to Jasper we used bikes, canoes and foot for our modes of transportation.
Sleeping Arrangements
We stayed in a tent trailer located a little outside of Jasper. This allowed us to be directly in the heart of the wilderness as there was elk in the proximity of our tent. On the first day I went outside of the tent and an elk was standing right there. I was taken back at first but then became extremely at ease in the presence of such a graceful creature. Every night when I had to pee in the middle of the night, I was extra cautious tip-toeing out of the tent trailer. I was fearful an elk would be laying right outside the door. Thankfully I managed to make it through every night. By the end, I got used to hearing their breathing and mooing throughout the night.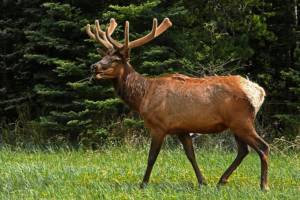 "By the end, I got used to hearing their breathing and mooing throughout the night.
Home Away From Home
We cooked our food over the fire which gave it extra flavouring that you would not normally get. The popcorn was the tastiest since it was different than how we usually ate popcorn. Our meals were healthy, tasty and simple to keep us fuelled for our adventures.
Active Days
The adventures were nonstop and really made it fun-filled journey. On the first full day we canoed around Pyramid Lake. This was a beautiful location as it was surrounded by mountains and had crystal blue water. It was a serene and spiritual experience and I was calmed by the tranquility of my surroundings. We spent the latter part of the day hiking. This allowed us to see various plants, waterfalls and small creatures living in the forest.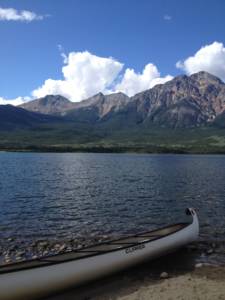 Picture Perfect
The next day we biked around the surrounding area and took in more of the beautiful sites. We had a picnic consisting of chicken, cucumbers and pickles at a small lake we came across. After lunch we went white water rafting. This was led by a guide so I felt safe and prepared in the rough waters.
White Water Rafting
I got sprayed a few times as I was sitting in the front of boat, however I chose this spot to be more daring and truly embrace the wild ride. The water was chilling to the bone but with the sun beating down I quickly heated up. This was my first time on a raft but it most certainly won't be my last.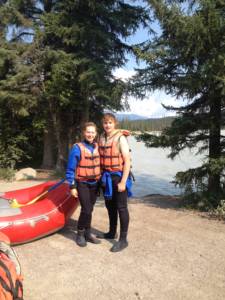 That night we cooked squash over the campfire. Squash is one of my favourite foods and I had never had it over the fire so it was a nice change. We then went for an after dinner walk and observed many elk and rabbits along the way. After having such an eventful day we took it easy the rest of the night and just visited around the campfire as we munched on our fire-cooked popcorn.
Biking and Hiking
On our full last day we biked around in the morning. Biking is one of my favourite activities and I always enjoying doing it in a new place. It is a great way to see vast territory, stay active and have a more positive impact on the environment. We also visited the Jasper Hot Springs. I am happy to have added this activity into the journey since it was a new activity in a place that I have always wanted to go. It was a great way to soothe our muscles after the busy days prior.
Lessons Learned
The next morning we packed up our campsite, made sure the area was exactly as we found it and made our way back to Drumheller. This was a wonderful journey that taught me a great deal. I realized the importance of protecting the delicate environment and keeping it intact. The mountains are majestic monuments put on Earth that I want to be enjoyed by others for eons. As well, I felt rejuvenated after going without electricity, water and cell phone service. By disconnecting from the outside world, even though it was for a very short time, I felt more connected upon my return. I believe it is important for us all to do this every now and then as it makes us appreciate what we have, and most importantly the people around us, even more. Overall, I am grateful for my discovery that challenged me physically, pushed me to explore unknown territory and heightened my appreciation for nature.
Share Your Adventure with Us
HCM Lifestyle is sharing inspiring personal stories. If you have an adventure or personal story, please share your message to encourage others to try something new. Thank you for being part of the HCM Lifestyle journey. So please connect with us on Instagram @hcmlifestyle, Facebook, Twitter and Tumblr and be with us every step of the way.
Let's all sleep with elks or do whatever other crazy activity we come across! You only live once!
By HCM Lifestyle's Madison Colberg