My Mother and Guardian Angel
Nine months in a womb solely relying on one person for food, protection and warmth. This is a human dependency that creates an unspeakable bond, bountiful of admiration and respect, between mother and child. Some may share this admirable connection with their greatest friend who is the life of the party and sounding board. Others worship the ground walked on of a significant other, who not only shares a deep emotional bond, but also a romantic, physical component as well. However, my admiration breathes out the strongest for my Mother. With stellar confidence that radiates a persona of grace and humbleness, my Mom's heart is heart deeper than the core of the earth. She will give anything to everyone and is the most insightful voice of reason any non-deciphering mind could ask for. My mom is by far the greatest person I know.
"My admiration breathes out the strongest for my Mother."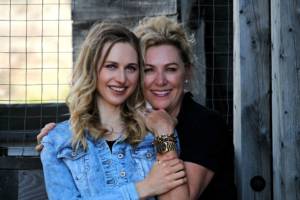 Confidently stepping into each task she endeavours, an aura of leadership seeps out uncontrollably and instantly emanates poise and charisma. She is a woman who has earned respect through every facet of life and has not once let this high position go to her head or get in the way of doing a greater good. Being the head of administration for a million dollar company has not enticed a dictator form of leadership.Rather, this opened her up to an array of opinions from all walks of life. This form of leadership has helped her further grow as an individual.
Living in a so called, "dog eat dog world, " one is not always entirely willing to help out someone else. This is not the case when it comes to Heather Colberg. Whether it is the homeless man she buys a sandwich for (I will forever remember the day in San Francisco), or a midnight phone call from a dear friend in need of assistance, she will share her heart and compassion with anyone. She will share regardless if asked to or not. For instance, she has organized the annual Salvation Army Food Drive for the last nine years in a row. This is of absolutely no gain to her, other than a warmed heart and the knowledge she has made an unmeasurable difference in the lives' of others. For my Mom, this is the greatest gain of all.
"She will share her heart and compassion with anyone."
As a child grows they become naive things will go their way, only dramatically switching to self-pity when one realizes things may not always be what meets the eye. At times like this, when all odds seem against oneself, it is tough to know whom to turn to. However, my mother is undoubtedly the first person at my side. The tears shed after my first heart ache quickly evaporated into thin air after heartfelt advice and reason from a wise woman. Not once cruelly criticizing, though honesty never fails, my Mother's greatness shines through in the most desperate and needed times.
Life's revolving door continuously spins, causing people to enter and leave simultaneously. There will be admired teachers, long lost lovers and friends who know you better than yourself, however my Mom is one person who will never revolve out. Of the millions of people trampling this vast earth, I can truly say I have been blessed with the greatest person who I can lovingly call my Mom.
By: HCM Lifestyle's Madison Colberg
Inspirational Journey with HCM Lifestyle
I am thankful every single day for my Mom and it is a blessing to share the journey of HCM Lifestyle together. Become part of this journey and share your story with us at hcmlifestyle@gmail.com We are also sharing inspiring moments through Instagram, Twitter and Facebook. Thank you for being part of the HCM Lifestyle journey of inspiration, 'Helping us all become a better version of ourselves.'